9th March 2023
BLOG: WHY BOTTLE AT CASK STRENGTH?
Offering a cask-to-glass experience, what do we hope to gain from bottling our golden liquid at natural cask strength?
Let's go back to basics and define what cask strength is. After the final stage of the whisky-making process – maturation, the spirit is taken out of the cask to be bottled. Depending on how long the whisky within has been slumbering, its ABV will typically sit between 50-65%. In some cases where the whisky has been maturing for several decades, its natural strength can be as low as 40% – the legal minimum strength to bottle as Scotch Whisky. The vast majority of whisky-makers will dilute this final spirit with de-mineralised water (if above 40% of course) to bring down the ABV for a host of reasons. In contrast, a cask strength whisky is bottled at the strength at which it's drawn from the cask.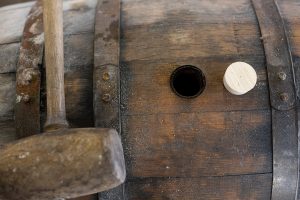 There are several reasons why whiskies are diluted before bottling. As well as maximising output, the most common motive is to offer a more standard drinking experience, thereby appealing to a larger number of drinkers. This goes together with the goal of creating consistency across bottlings, to ensure each release is meeting the expectations of the consumer. Conversely, cask strength bottlings are designed to pack a palatable punch, instead offering drinkers a unique opportunity to taste the spirit as nature intended.
This 'cask to glass' experience is often hailed as the purest way to enjoy the spirit, further aided by the fact that these whiskies tend to be unchill-filtered thanks to their higher strengths. A cosmetic process, chill-filtration removes chemical compounds – namely fatty acids, proteins, and esters – which can clump together at low temperatures and create an unsightly cloudiness in a whisky. Some argue that this process affects more than just its look, and instead is detrimental to the final drinking experience, with the belief that chill-filtration removes long-chain esters that produce extra flavour and body. This haze generally only occurs in whiskies below 46% ABV, and so is not a problem for any of our releases, cask strength or otherwise. Every whisky we bottle under MacNair's Boutique House of Spirits sits at a minimum of 46% ABV, without chill-filtration and with no added colour.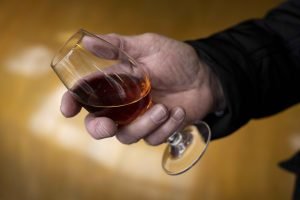 By nature, alcohol is an exceptionally effective flavour carrier and so whiskies bottled at cask strength can highlight complex aromas. Scientifically, the chemical compounds that contribute to the flavour and aroma of a whisky are bound to the alcohol, and so the higher the strength, the fuller and more intense these become. Its natural state means that no two cask strength whiskies will be the same, intriguing even the most seasoned of whisky drinkers. With cask strength releases, the power of enjoyment is fully in the hands of the drinker. The consumer is given the opportunity to act as the blender themselves, with the ability to experiment with the addition of water to create a new drinking experience each time.
There are a whole host of factors which impact upon a spirit's flavour – maturation length, cask type, warehouse temperature and region to name a few – and in the same way that some whiskies will benefit from the addition of water, there are others in which their natural state offers something spectacular.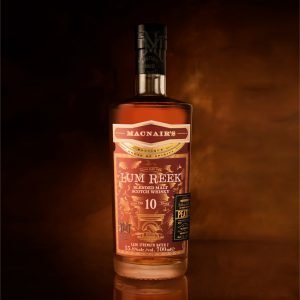 We recently launched the second iteration of our 10-year-old Cask Strength release, which truly embodies the benefits of bottling at natural ABV. A harmonious blend of Speyside and Islay malts, including aged GlenAllachie, the resulting spirit is abundant with rich honeyed sweetness, coupled with puffs of peat smoke. Being a natural product, much of the exquisite flavour enjoyed is derived from aging in the finest oak. Although the recipe remains largely unchanged between batches, each cask has its own DNA meaning that there is natural variation between each iteration. To ensure the desired characteristics are captured within each batch, the aging spirit is monitored frequently before each cask is hand-selected to be bottled, with only the finest whisky making the cut.
To delve deeper, we sat down with our Sales Director and Blending Protégé of Billy Walker, Ronan Currie…
Q. Are there certain flavours or aromas that are heightened before dilution?
A. Non-diluted spirit can typically present intense, richer, and more concentrated flavours. In the case of the spirit that we use for our Lum Reek Blended Malts, this appears as dried orchard fruits, heather honey, vanilla, peat smoke and sweet spice. Non-diluted spirit can also showcase a fuller bodied and more viscous mouthfeel. Bottling a whisky at cask strength, whilst also not chill-filtering or adding colour, provides the opportunity to taste as if you were sampling straight from the cask.
Q. What factors contribute to the decision of bottling at cask strength?
A. As an independently owned and operated distillery, our full focus when it comes to product creation is flavour. If we take our Lum Reek 10-year-old Blended Malt, which brings together four different single malt distilleries; two from Islay and two from the Speyside region, as well as four different cask types; Pedro Ximénez, Oloroso, Rioja red wine and American virgin oak, it is evident that balance is key. We felt this balance would be best captured at its natural strength when monitoring each component. We operate an intensive pilot sampling programme when it comes to bottling all of our products under The GlenAllachie Distillers Co., ensuring that we don't release anything that isn't ready or below our exigent standards.
Q. What is the importance of using high quality oak for maturation?
A. We constantly strive to source the highest quality casks. This allows us to have excellent first and second maturation, ensuring an in-depth integration of spirit style and cask character. This pursuit, regarding cask quality, gives us the opportunity to blend the distinctive and flavoursome characteristics from each unique single malt distillery together harmoniously.
Q. Should you add water to cask strength whiskies?
A. Our aim is to create cask strength whiskies that are flavoursome, rich, and very drinkable at their natural ABV. However, adding water to your whisky is the very personal choice of the drinker themselves. We would encourage drinkers to first taste it neat then if desired, add water little by little to meet their tastes. Remember, every palate is different so there is no right or wrong way to enjoy your dram.